It's the final week of the calendar year, so it's time to do my now third annual year in review post based on these questions. I find them to be an excellent way to consider and wrap up the year we are letting go of before ushering in a new one later this week. Plus, they provide a great snapshot of the past 12 months. I was surprised to see all that I found valuable in last year's post and wouldn't have remembered much of it without it. I hope you'll join me in putting together your own reflective year in review; you just might be surprised by what you discover, and you'll be happy to have it to look back on in the future.
What makes this year unforgettable?
Globally:
It's hard to believe we're wrapping up another entire year of COVID. Dr Marry and I were both diagnosed with COVID on December 26th last year, and while neither of us needed to be hospitalized, it was a miserable experience, to put it lightly. I'm thrilled to note that everyone in my family, close and extended, are vaccinated and boosted. Who could have ever imagined that something as common as a virus could divide families, communities, the nation and even the world the way this has?
We lived through January 6, 2021, surely the worst day in America's history, perhaps since the start of the Civil War, because it was our own citizens who determined that this was the right move to make. I will never recover from the fact that very few who align with the political party of the previous man who occupied the White House came out against the actions of the rioters, that man for his rhetoric and his entire administration for fueling the flames that led to the day. Yes, we lived through it, but I'm not sure we'll actually survive it.
Personally:
I worked with two incredible coaches: Laura Gassner Otting and Jess Buchanan. Both challenged me in the best ways, gave me so much to consider that I'm light years further down my entrepreneurial path than I ever could have been on my own and both have become fantastic cheerleaders. Dr Marry and I also worked with Lillian Cotter to make significant changes to Daily Dose, the most remarkable being to take it from five days/week to two. That has helped to create a much more livable work week for us, and it's enabled us to have stronger content. We had 43 #guestThursday conversations with absolutely incredible people, some old friends and some brand new to us just moments before going live. I continue to be grateful for their vulnerability in showing up to share their journey with addiction, mental health and more.
We said goodbye to our sweet, silly Lilly-girl on July 2 this year. At 14 1/2 years old, she was ready. It was a terrible day, but we were with her to the very end, and she died eating treats, nestled between us. We should all be so blessed, actually.
What did you enjoy doing this year?
COVID has made our world so small in many ways, but that means that we have, again this year, enjoyed some really simple pleasures: bike rides around town, often to fun restaurants and ice cream shops. Walks throughout the neighborhood. Adventures around the region. And just this past week, Dr Marry and I purchased cross country skis and started doing that. What a difference it makes having something fun to do outside in the winter versus just resenting the falling temperatures and snow.
In other ways, COVID has opened up the world because there's been different time to explore people and things online. I've enjoyed developing new relationships with people who are invested in moving through the world like I am, and I've rekindled some very old friendships with regularly scheduled zoom calls. *Because of that, I think some of what is dragging on me is that I'm realizing that some of the friendships I thought were rock solid have just not held up very well these last couple of years. People who were once important to me have not felt very supportive of the path I am pursuing. This isn't something that I've enjoyed coming to terms with, but it's been a valuable realization. One of my plans for 2022 is to figure out how I want to deal with that, deal with them. Another plan is to really assess how I'm showing up for the people who are important to me because I don't want others to feel the way about me that I currently do about a number of my friends.
What/who is the one thing/person you're grateful for?
Dr Marry will always top this list, but this year, I'm most grateful for Quinn for two specific reasons (despite the more than two bullet points!):
In March, when I was promoting the PSD six-week virtual course, a man I knew a bit signed up, which was great. I didn't want him to be the only man in a group of women, so I asked Quinn if he would take it, too. This was a gamble for me because this work can be vulnerable and intimate, and I wasn't sure how he or I would do in this situation. He said yes, which surprised and delighted me. After the first session, he called to say that he thought the night was excellent. He was already thinking about the first assignment and really appreciated the way the first two hours moved. Quinn does not hand out praise lightly, so this meant something to me.
Quinn took the course seriously, did the assignments and gave and took meaningful suggestions, despite being quite a bit younger than anyone else in the group. He made some surprising and important realizations about a path he wants to pursue, and took some risks to get started on it. I'm proud of all the people who put in the work to make the PSD learning meaningful for them, but Quinn's journey made me incredibly proud. It also gave me confidence that this course has real potential and value because he gave me such great feedback.
He continues to show up for the every six-week check ins that I host for anyone who has gone through the retreat/course. These are fun networking and learning hours that help keep people on the path they started down in the first place. Whether it's because they are helpful for him or because he is supporting me (or I hope some of both!), I value that he shows up nearly every time.
When we were together at Thanksgiving, I gave my Microsoft talk (see below) to both Quinn and my mom because they are my harshest critics and have the most valuable thoughts to share. Quinn had heard a very rough, earlier version of this talk from before I started working with Jess. He was so complimentary about specific elements when I was done that I knew I was on the right path. His reflection on the significant differences between the earlier version and the latest one were confirmation that my hard labor to pare things down and make them meaningful for the audience had paid off.
What's your biggest win this year?
I held four Personal Systems Disruption retreats/courses: two virtually and two in person; three over a weekend and one over six weeks with 22 extraordinary participants from across the country. I'm proud of that work and believe that many of the people who invested in the process found great success from being part of it.
But I'm actually proudest of realizing that it's time to set PSD retreats down, at least locally and at least for now. Part of the recognition of my evolving friendships is seeing all these people in my life whom I have supported in one way or another just not showing up for me; actually, they aren't showing up for themselves since that is the nature of the course and much of my writing. Not taking the retreats, not signing up for my newsletter, not reading/watching my content, or if they are doing any of that, they certainly aren't talking to me about it. Many people I consider to be quite close to me rarely if ever express any curiosity or interest in anything I'm doing. I'm not saying people need to be glued to their screens, waiting for me to appear, but the nature of real friendship is being invested in each other's lives. I'm ready to be done hawking this content to people who know me and just aren't paying attention or getting involved. I'm not discounting their side of this story, which has value, but for the purpose of this post, I'm only interested in my take on the situation because that's the only side I know. It's also the only side I can control.
What did you read/watch/listen to that made the most impact this year?
I can't say that any one thing knocked me sideways because I consume so much excellent content, but here's a list of most of the books I read this year:
Lead from the Outside by Stacey Abrams
A Knock at Midnight by Brittany K Barnett
Limitless by Laura Gassner Otting
Is Everyone Hanging Out Without Me? by Mindy Kaling
Louisa on the Front Lines by Samantha Seiple
The Gift by Dr Edith Eger
Nobody Knows What They're Doing by Lee Crutchley
The Seven Spiritual Laws of Success by Deepak Chopra
The Rules Do Not Apply by Ariel Levy
On Writing by Stephen King
More Than Enough by Elaine Welteroth
Five Wishes by Gay Hendricks
Dream First, Details Later by Ellen Marie Bennett
The Way of Integrity by Martha Beck
Heartwood by Barbara Becker
What Happened to You? by Bruce Perry and Oprah Winfrey
Very Good Lives by J K Rowling
O's Little Guide to Finding Your True Purpose by the editors at O magazine
Big Dreams, Daily Joys by Elise Blaha Cripe
Let the Elephants Run by David Usher
The Looooooooong Game by Dorie Clark
Caste by Isabel Wilkerson
The Self Employed Life by Jeffrey Shaw
Jane Austen, A Life by David Nokes
Finding Your Own North Star by Martha Beck
Belle, The Last Mule at Gees Bend by Bettye Stroud and Alexander Ramsey Calvin
What did you worry about most and how did it turn out?
I was panic stricken about the talk I gave at Microsoft in early December. I couldn't sleep. I had a terrible time getting it memorized. I was apoplectic about having to use their PowerPoint format. Then I gave it, and it was a relatively unremarkable experience. It was a virtual presentation, which I didn't mind, but it meant I got little feedback, and that was unsatisfying. I can say that having that hard deadline pushed me to get the talk to a place where it was presentable, and now it will never again be the first time I give it; that feels good. And I don't discount the fact that I made my professional speaking debut at Microsoft. As I said online: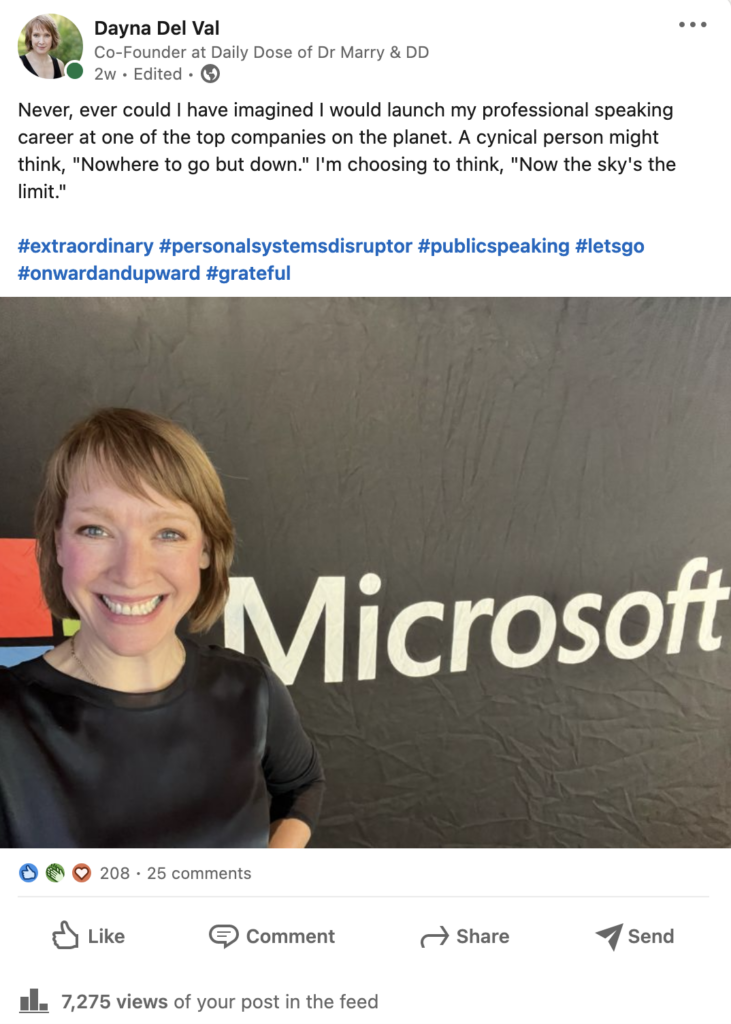 What was your biggest regret and why?
I don't have any truly big regrets, except we had tickets to see Hamilton in New York City the week before Christmas; we cancelled the trip the day before we were scheduled to leave because the show shut down due to COVID outbreaks in the cast and crew. We ended up making a fabulous week staycation out of it at home, but it was disappointing to miss that opportunity.
What's one thing that changed about yourself?
In the past, if I found myself in an uncomfortable situation because of my rural location, my lacking credentials or the smallness of my life, I fell apart. But in September, when Dr Marry and I attended a conference in San Diego that was immediately not a good fit, instead of spiraling out of control, I simply leaned over to him and said, "We could leave here and do something else." And we did, and it was glorious. I credit having Dr Marry at my side as being the number one reason why this shift happened, but I also credit my work with Laura Gassner Otting, who helped me realize that being from North Dakota is my super power not the albatross I had come to believe it was. That was a BIG shift!
What surprised you the most this year?
So much of what surprised me came from dismay rather than joy. I have been and continue to be surprisingly dismayed by the ongoing COVID situation, by the Republicans' ongoing support of he whom I will not name, by the way it feels like our Democracy is being dismantled before our very eyes.
Every single time I thought perhaps we needed to put Daily Dose down—maybe we'd said everything we could say—a complete stranger would approach me, often hesitantly, and say something to the effect of, "I watch your program with your husband, and I want you to know how much it's helping me." The Universe has bigger plans for our work, our job is to keep showing up and doing it. I appreciate those surprising conversations every single time.
I had a friend ask me, with some skepticism, "How much more could you possibly have to say?" when I was talking about doing more writing. I guess I'm both surprised and not at all surprised that I have more to say. While I'm not likening myself to, say, Bach, Frida Kahlo or Agnes de Mille, I wonder if anyone asked them how much more music, paintings or dances they could possibly produce? I'm a creator, and, as such, that is what I do. It's the first thing I think about in the morning and it's the thing that wakes me up in the middle of the night. I've continued to be surprised, in the best possible way, that I have more to say. Surprised and grateful. I know that 2022 is going to be a year of incredible creative output, and I can't wait.
If you could go back to last January 1, what suggestions would you give your past self?
Be patient. Have faith. Do your work. Look inside. Show up. Just be. You're on the right path, even if it often doesn't feel like it. You're exactly where you need to be, so just keep going.
*Much of this year's reflection was incredibly hard for me to fill in. It's not that I haven't had some great moments and some big wins, because I have, but I'm feeling a kind of dragging sensation in my life that I'm working through. It's clouding some of my ability to be reflective of the year. Are you feeling that, too?